Ukraine Herbal Solidarity is a grassroots project supporting refugees from Ukraine with herbal medicine. We are a team of Ukrainian and international herbalists with medicines grown, made and donated from all over the world.
We are currently working from a gas station where hundreds of refugees pass through on coaches every single day. In the first 6 days of the clinic, we distributed more than 3000 medicines. We also send medicines direct to Ukraine via contacts on the ground.
The impact the clinic is having: We have had women in tears at the sight of Valerian tincture. Others have told us they haven't slept for weeks, or that they wake up in panic after being bombed. We know herbal medicine can support them to finally sleep. They tell us the medicines are needed and how relevant the project is. Within three days of the invasion, Valerian had sold-out in Ukraine. Many people have coughs and colds and their immune systems are at an all-time low after weeks of chronic stress and trauma. We know these medicines are in demand but can only continue to support people with your financial support.
Please donate here: https://www.crowdfunder.co.uk/p/ukraine-herbal-solidarity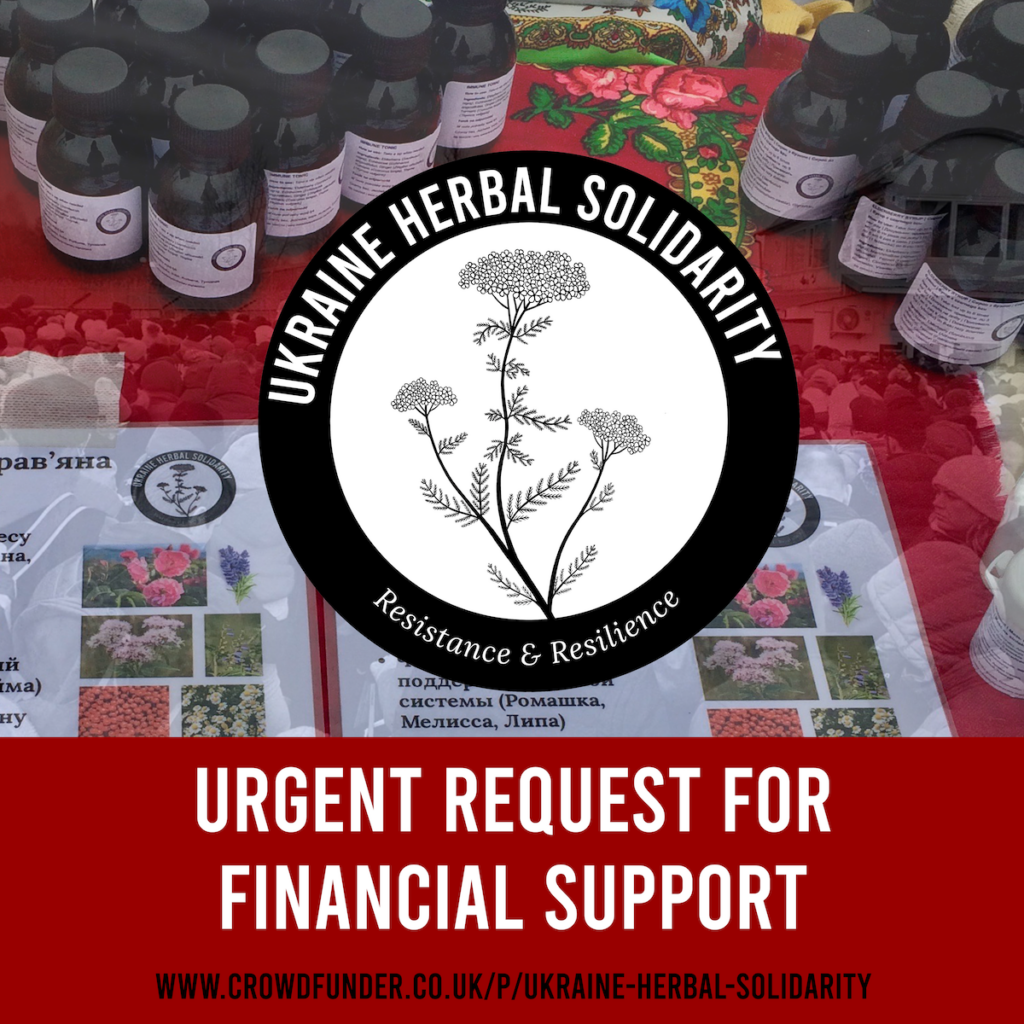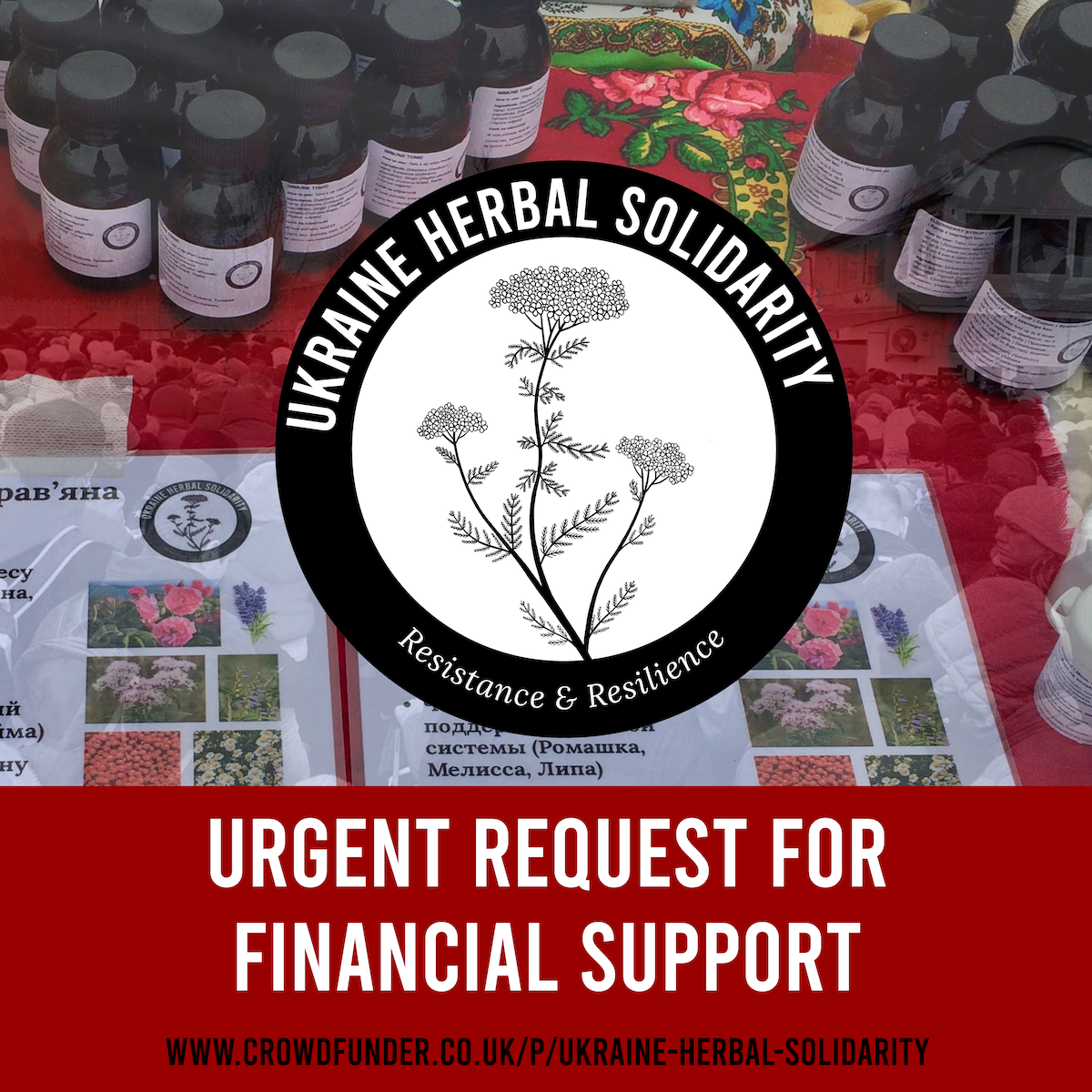 About
UA – Українська Трав'яна Солідарність — це низовий проєкт, що підтримує біженців з України трав'яною медициною. Ми є командою українських та міжнародних травників із ліками, що їх вирощують, виготовляють і жертвують по всьому світу.
ru – Траволекарственная Солидарность с Украиной – это низовой проект, поддерживающий беженцев и беженок из Украины с помощью травяной медицины. Мы – команда, состоящая из украинских и международных травников и травниц. Компоненты наших лекарств пожертвованы, выращены и сделаны для нас со всего мира.
PL – Ukraine Herbal Solidarity jest oddolnym projektem wspierającym osoby uchodźcze z Ukrainy, poprzez wydawanie herbalistycznych wyrobów medycznych. Jesteśmy zespołem ukraińskich i międzynarodowych herbalistów, dzielących się środkami medycznymi wyrobionymi i pochodzącymi ze wszystkich zakątków świata.
Our Medicines
EN – We offer medicine for resilience such as immune support, stress support and COVID 19 support. Items include:
Tinctures for stress and sleep (valerian, skullcap, hawthorn & rose)
Teas to support the nervous system (chamomile, lemon balm, lime flowers)
Lavender oil for sleep
A nutritive tea blend (nettle, dandelion, oatstraw, raspberry leaf )
Elderberry syrup for coughs & colds
An immune tonic (ginger, echinacea, elderberry, turmeric, thyme)
---
UA – Ми пропонуємо ліки для стійкості, такі як для підтримки імунної системи, підтримки у випадку стресу та підтримки у разі захворювання на COVID 19. Продукція включає в себе:
Настоянки від стресу та для сну (валеріана, шоломниця, глід і
троянда)
Настоянки від стресу та для сну (валеріана, шоломниця, глід і троянда)
Чаї для підтримки нервової системи (ромашка, лимонний бальзам, квітки лайма)
Олія лаванди для сну
Чайна суміш для відновлення сил (кропива, кульбаба, вівсяна солома, лист малини)
Сироп бузини від кашлю та застуди
Тонік для імунітету (імбир, ехінацея, бузина, куркума, чебрець)
Усі ліки також мають зрозумілий інформаційний буклет щодо побічних ефектів та протипоказань.
Біженці можуть звернутися безпосередньо до нас для отримання ліків. Також ми можемо запропонувати більш індивідуалізовану підтримку за участі клінічного травника.
Українська Трав'яна Солідарність також може жертвувати ліки проєктам, які можуть розповсюджувати їх серед біженців, використовуючи власні мережі.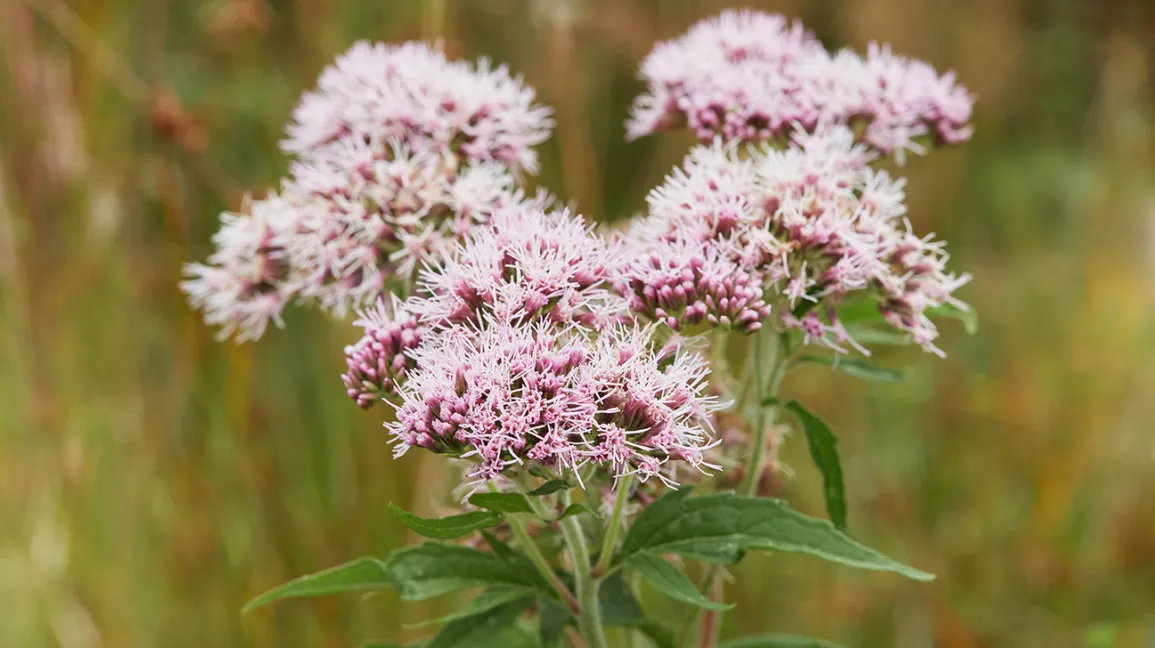 ---
ru – Мы предлагаем медицинскую помощь для стойкости организма, включая поддержку иммунитета, а также облегчение последствий стресса и коронавируса. Наши лекарства включают в себя:
Настойки от стрессовых состояний и проблем со сном (Валериана, Шлемник, Боярышник, Роза)
Чайные напитки для поддержки нервной системы (Ромашка, Мелисса, Липа)
Масло лаванды для сна
Питательная чайная смесь (Крапива, Одуванчик, Овёс, Лист малины)
Сироп из бузины от кашля и простуды
Тоник для поддержки иммунитета (Имбирь, Эхинацея узколистая, Бузина чёрная, Куркума, Тимьян)
---
PL – Oferujemy wzmacniające wyroby medyczne, środki przeciwstresowe i wspierające układ odpornościowy, także przeciw COVID 19. Środki te zawierają:
Nalewki Przeciwstresowe i Wspomagające Zdrowy Sen (Waleriana, Tarczyca Bocznokwiatowa, Jagoda Głogu i Róża)
Herbaty Wspierające Układ Nerwowy (Rumianek, Melisa, Kwiaty Lipy)
Olejek Lawendowy wspierający zdrowy sen
Mieszanka Herbat Bogatych w Składniki Odżywcze (Pokrzywa, Mniszek Lekarski, Ziele Owsa, Liść Maliny)
Syrop z Czarnego Bzu na Kaszel i Przeziębienie
Tonik Odpornościowy (Imbir, Jeżówka, Czarny Bez, Kurkuma, Tymianek)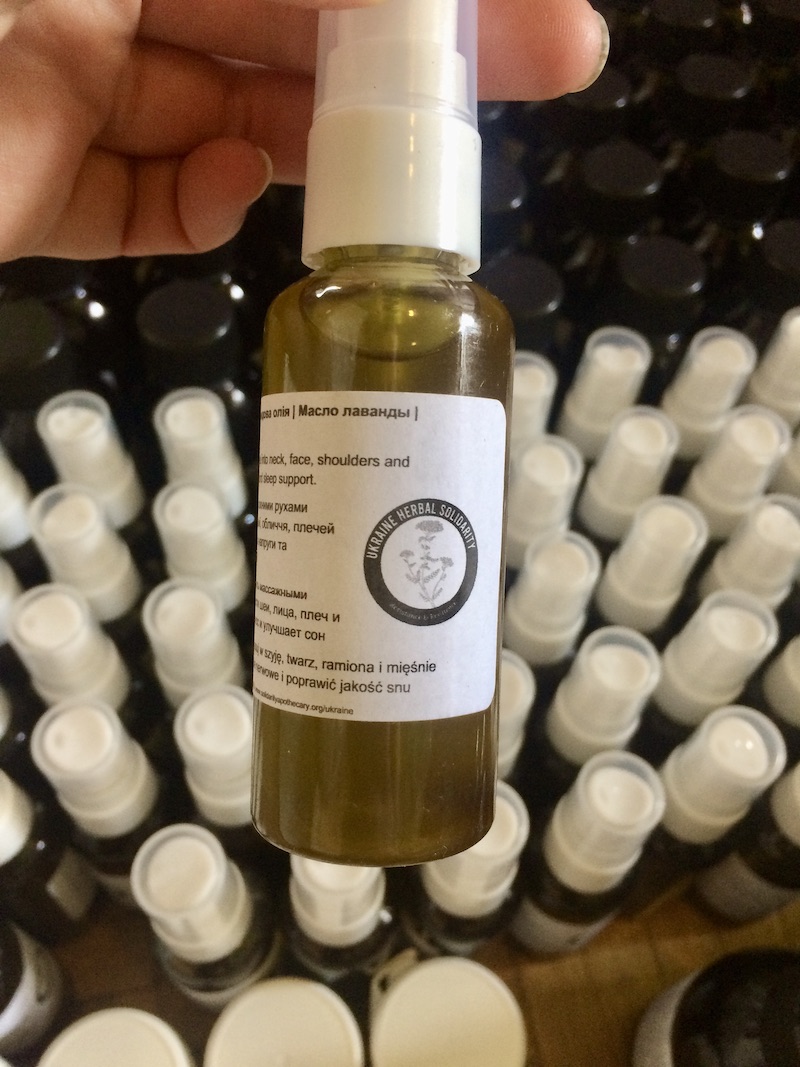 How to contact us for medicines
EN – Refugees are welcome to contact us directly for medicines. We can also offer more individualised support with a clinical herbalist. Ukraine Herbal Solidarity can also donate medicines to projects who can distribute them to refugees in their networks. Please contact us at ukraineherbalsolidarity@protonmail.com
UA – Усі ліки також мають зрозумілий інформаційний буклет щодо побічних ефектів та протипоказань. Біженці можуть звернутися безпосередньо до нас для отримання ліків. Також ми можемо запропонувати більш індивідуалізовану підтримку за участі клінічного травника. Українська Трав'яна Солідарність також може жертвувати ліки проєктам, які можуть розповсюджувати їх серед біженців, використовуючи власні мережі. Будь ласка, зв'яжіться з нами за адресою ukraineherbalsolidarity@hnuthprotonmail-com
ru – Траволекарственная Солидарность с Украиной также может передать лекарства проектам, которые могут распределять их среди беженцев и беженок в своих сферах и местах деятельности. Пожалуйста, свяжитесь с нами по электронной почте: ukraineherbalsolidarity@hnuthprotonmail-com
PL – Wszystkie środki medyczne zawierają załączoną, wyczerpującą ulotkę informacyjną posiadającą informacje o efektach ubocznych i przeciwwskazaniach. Zachęcamy osoby uchodźcze do bezpośredniego kontaktu z naszym zespołem w sprawie naszych środków medycznych. Oferujemy także indywidualne wsparcie medyczne w kontakcie z herbalistą klinicznym. Ukraine Herbal Solidarity, nie ogranicza się do działania wewnętrznego. Jesteśmy skłonni dzielić się środkami medycznymi z innymi projektami i inicjatywami chętnymi do rozprowadzania naszych wyrobów do osób uchodźczych, które wspierają. Zachęcamy do kontaktu z nami przez ukraineherbalsolidarity@ protonmail.com
Our Information Leaflets
Our Herbal Safety Leaflets
Donate
Please donate here: https://www.crowdfunder.co.uk/p/ukraine-herbal-solidarity
Herbal Medicine Wishlist
These are the supplies we are needing in mass quantities. Please contact us for the posting address.
Valerian tincture and capsules
Skullcap tincture
Rose tincture
Hawthorn tincture
Elderberry tincture
Echinacea tincture
Peppermint tincture
Lavender Oil
Bruise ointment
Lemon Balm (dried)
Chamomile (dried)
Linden flowers (dried)
Nettles (dried)
Dandelion leaf and root (dried)
Raspberry leaf (dried)
Oatstraw (dried)
Elderberries (dried)
Lavender (dried)
Marshmallow powder
Fennel seeds
Cinnamon sticks
Chamomile glycerite
Hawthorn berry glycerite
Rose glycerite
Lemon balm glycerite
Ginger glycerite
Thyme glycerite
Turmeric glycerite
Chest rubs
Organic olive oil
St John's Wort infused oil
Comfrey infused oil
Arnica or Daisy infused oil
Wintergreen Essential Oil
Lavender Essential Oil
100ml Amber PET bottles (like this)
Please email us for our postal address – ukraineherbalsolidarity@protonmail.com
How to support
Ukrainian speakers are welcome (and needed) to volunteer at the space over the coming months
Non-Ukrainian speakers can massively support the project 'behind the scenes'
Fundraising
Medicine making
Sharing the project to generate support and donations
Driving medicines to Poland and Ukraine from the UK and other countries