The Mobile Herbal Clinic Calais is a dedicated mobile clinic that takes place the first week of each month in Calais and Dunkirk. The clinic offers preventative medicine, self-care support, first aid and healthcare access support to hundreds of refugees and undocumented migrants living in the region. You can learn more about the project here: https://mobileherbalclinic.org
I get many emails and messages from people asking how they can support the clinic so I thought I would create a blog post about it.
1. Donate
Donations are urgently needed! We are a grassroots project with no institutional support. Each trip costs around £2400. We are completely dependent on donations from supporters. We encourage people to donate what they can and/or to organise a fundraising event in their area.
We have had some successful grants in the past – if you know of any potential funders, please let us know!
How to donate: https://www.crowdfunder.co.uk/p/mobile-herbal-clinic-calais
2. Volunteer in Calais
Each month a team of four people operate the clinic in Calais and Dunkirk. This team is made up of a Clinical Supervisor (normally a doctor or medical herbalist with 5+ years post graduation active practice), a Field Coordinator (who organises the trip), a Communications Assistant (who supports with translation and sharing information about local health services) and two Herbal First Aiders. These are herbalists supported by the clinical supervisor to work in the field on the internal or external medicine stations e.g. first aid dressings. People may have more than one role!
To keep the project going, we need this unique mix of people and skills every month which is no small challenge!
We would love to welcome more people to the team. We have organised an info night for new volunteers interested in working in the clinic.
It's on Monday 28th August 2023 at 7pm. Please express your interest by emailing info@mobileherbalclinic.org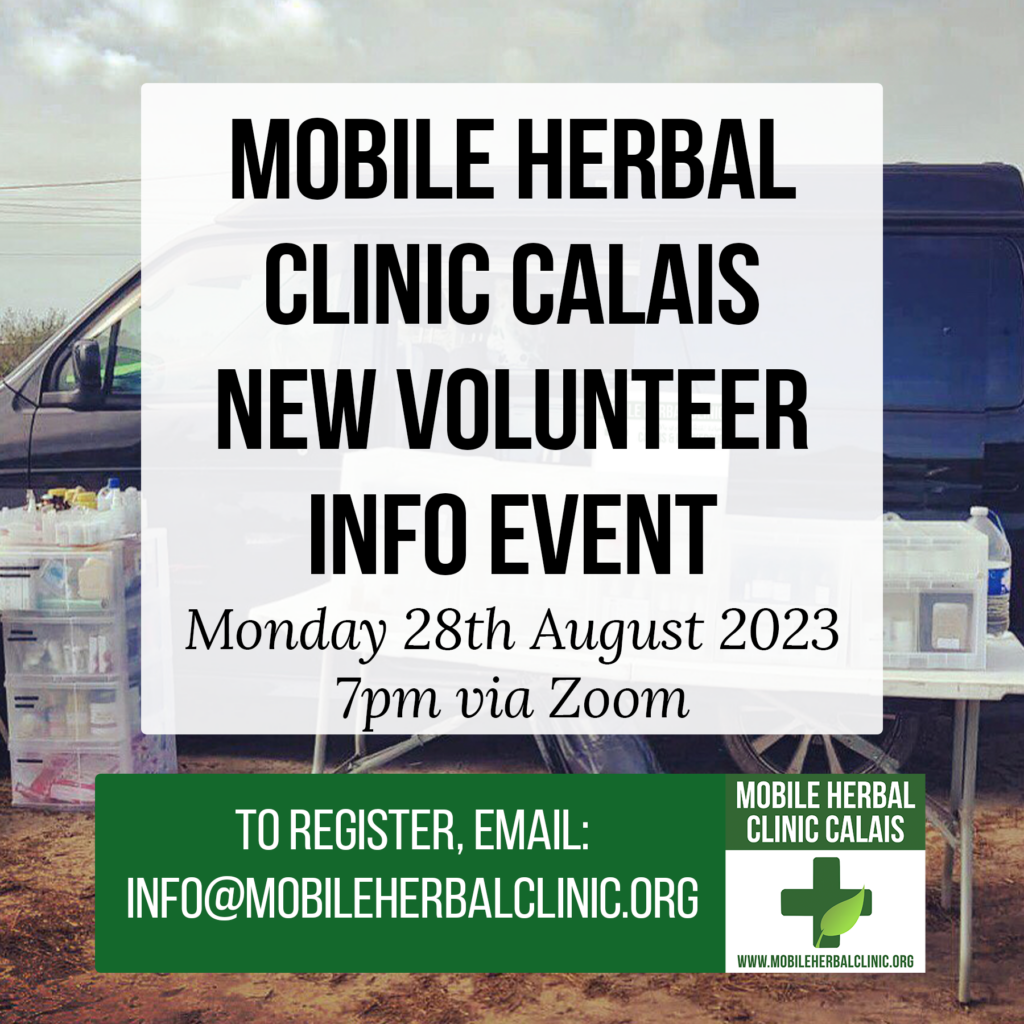 3. Become a remote translation volunteer
We have experimented in the clinic with different models of translation, from in-person translators, to google translate, and many different apps. One effective system we've found is having a pool of people on standby who are available to speak on the phone when needed.
This is helpful because many people cannot read and write in their language, it's faster, we don't have to have a huge team working in the clinic, people don't have to come away for a whole week etc.
You are simply on a WhatsApp group and if you are free you respond and say yes, and if you're busy, you don't need to reply. Please email info@mobileherbalclinic.org if you're interested in joining the WhatsApp group! Please share your name, number and any languages you speak.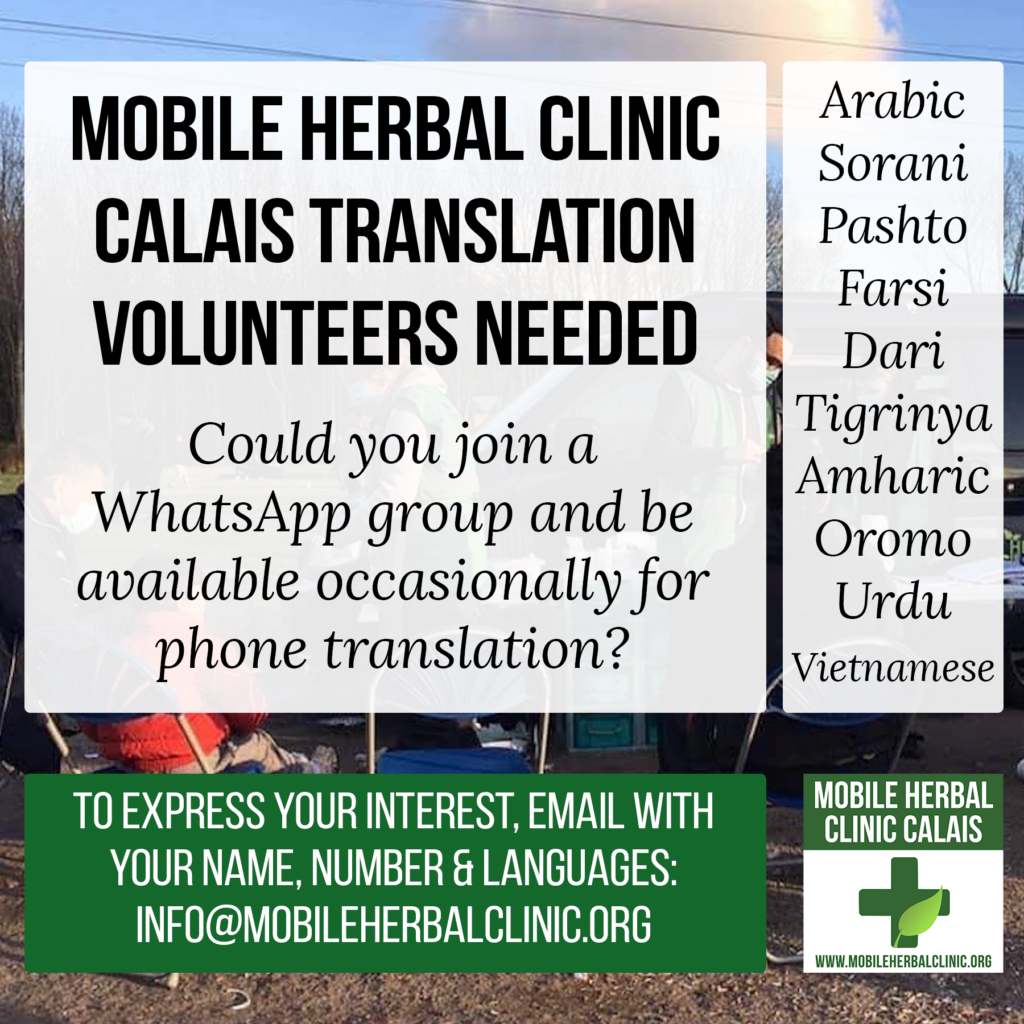 4. Donate needed items
A vast amount of our costs each month are on items that we have to purchase and can't produce ourselves like we can with our herbal medicines.
If you work in a workplace where you have some of these items going spare, we would love to take them off your hands!!!
Regular needed items include:
Musculoskeletal supports
Mepore Island Dressings
Sterile swabs
Saline bottles
Heat packs
Packaging (125ml amber PET bottles, 45ml white tubs, spray bottles)
Zip lock plastic bags
N95 Masks
Hand Sanitiser
Socks & Gloves (new)
Medical gloves
Conforming bandages
Blister plasters
Paper cups
Tongue depressors
Baby wipes
Epsom salts
Please email info@mobileherbalclinic.org to arrange logistics for posting etc. Thanks so much in advance.