Wednesday 20th October: Prison, PTSD & Herbalism Workshop
This is a private workshop for people part of the Sisco project in Glasgow. The workshop will introduce some of the plants from the Prisoner's Herbal book. It will be a space for people to share their own experiences of incarceration and what role herbs can play in healing from state violence, PTSD and addiction. The workshop will share samples and practical DIY medicine making skills, while holding space for conversations connecting plants and abolition.
This event is part of School of Abolition; a year-long action research project developed and led by artist and curator Thomas Abercromby using contemporary art and activism to challenge Scotland's prison industrial complex and the ways in which we respond to harm and crime without resorting to further policing or imprisonment. Thomas has invited various artists, academics, writers, activists and other guest contributors to expand the sharing of abolition praxis as a way of reimagining our criminal justice system through a free public programme of readings, workshops, screenings and public art displays. The School will work in close collaboration with communities in Glasgow North, providing a support structure that recontextualises the very idea of policing and prisons towards community-based models of safety, support and prevention.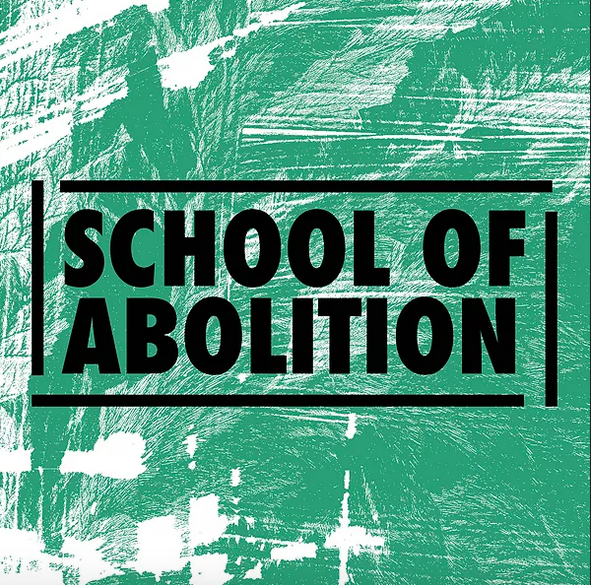 Friday 22rd October: Prisoner's Herbal Walk & Workshop
Booking Link: https://www.eventbrite.co.uk/e/prisoners-herbal-walk-workshop-with-nicole-rose-and-mitch-miller-tickets-190412628297?aff=escb&utm-campaign=social&utm-content=attendeeshare&utm-medium=discovery&utm-source=cp&utm-term=listing
When: Friday 22nd October at 12:00 – 14:30 BST
Where: Hamiltonhill Claypits Local Nature Reserve – meet at Glasgow Sculpture Studios, 2 Dawson Road, Glasgow, G4 9SS
Join us for a guided walk through the Hamiltonhill Claypits Local Nature Reserve led by anarchist organiser and herbalist Nicole Rose and artist Mitch Miller to learn about the use and stories of edible and medicinal common place plants, how to use them and what health challenges they can support. Throughout the walk, Nicole and Mitch will reflect on the importance of inner-city green spaces as sites of healing, respite and recreation for working class communities. We'll finish our walk with a tea tasting as one example of the different ways we can prepare plant medicines.
This event is suitable for all ages and is free to attend but booking is required. Learn more at https://www.glasgowsculpturestudios.org/news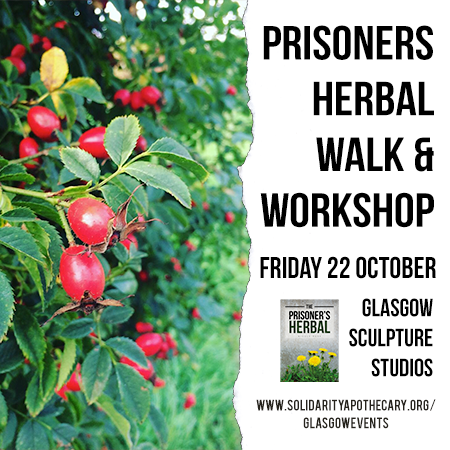 Saturday 23rd October: How to Stop a Mega Prison – Glasgow
Link: https://cape-campaign.org/how-to-stop-a-mega-prison-glasgow/
Community Action on Prison Expansion will be hosting an in-person workshop on at the Springburn Park Community Auditorium, Glasgow this October.
Where: Springburn Park Community Auditorium, Belmont Road, Glasgow, G21 3AX
When: Saturday 23rd of October at 12pm
Plans have been approved to build a new mega-prison HMP Glasgow in Glasgow North East by 2025 at the cost of £100 million. We all want to live in a safe community free from harm, but creating a mega-prison will not bring about the change we need. Instead, we believe harm could be better prevented by continued investment in communities, such as secure housing, education, healthcare, and opportunity for all.
In spite of these government plans, we have the collective power to halt mega-prison development. Communities have already stopped mega-prison development in Port Talbot and Wigan and stopped an immigration removal centre being built near Heathrow. Strong efforts continue to resist prison construction in East Yorkshire and for the total closure of the infamous Morton Hall.
Come along and hear from people who have been involved in these successful campaigns, learn how prison expansion has been challenged across the UK.