The mission of the Solidarity Apothecary is to use plant medicines to materially support revolutionary struggles and communities with plant medicines to strengthen collective autonomy, self-defence and resilience to climate change, capitalism and state violence. Each year I review the work towards this goal.
2021 saw the world remain in the throws of the coronavirus pandemic. Many people teetered on burnout after a massive year of revolutionary organising in 2020. For me personally, my year was dominated by completing my clinical training while still doing my best to organise herbal support for people experiencing state violence.
(I apologise about the length of this post! It may be detailed but I feel like it is important to share what has taken place and be accountable to everyone who has donated and supported this work in different ways.)
Here is what went down in 2021: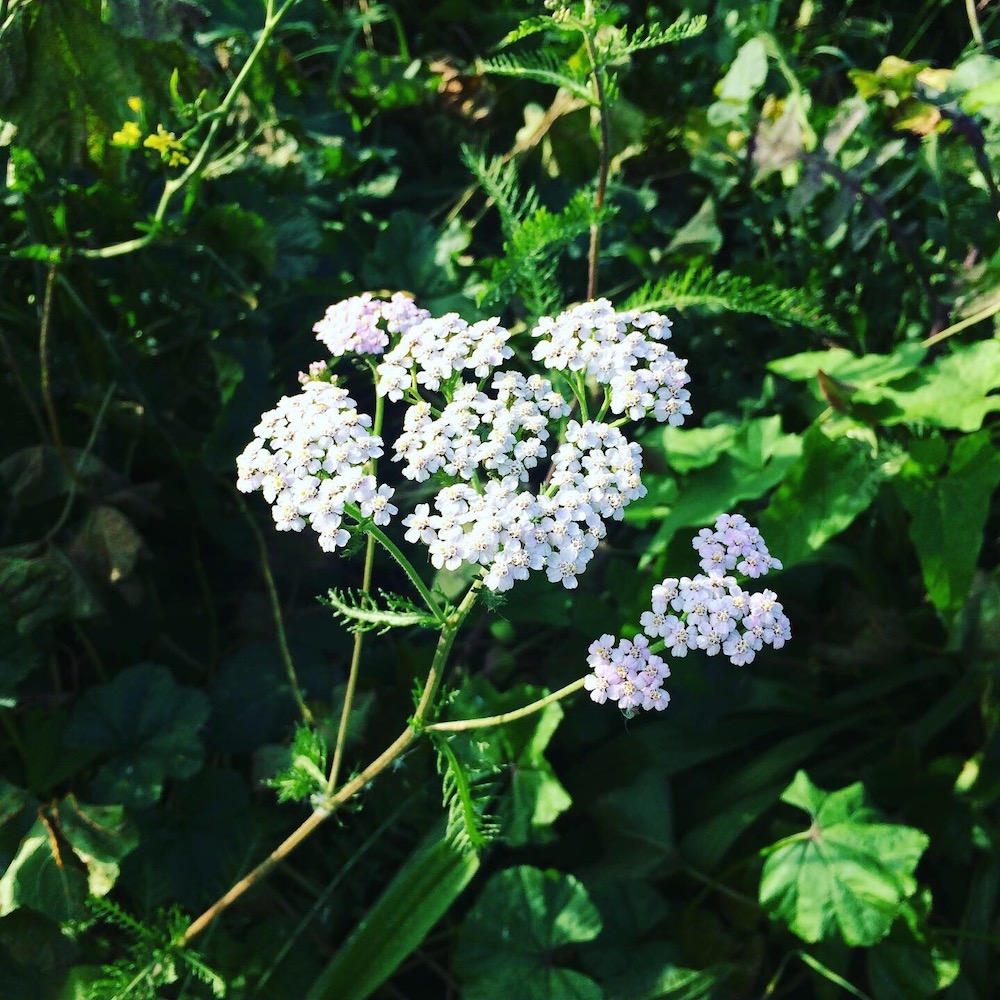 1. Completing my clinical training
At the end of October, I finally completed my clinical training with the Plant Medicine School in Ireland. There was a lot of blood, sweat and tears! A relentless study programme, huge amounts of clinical hours, finishing a 21k+ word dissertation and endless assignments… every moment of hard work was worth it. I cried my eyes out with pure joy when I finished my final exam and was told I'd passed. From being a 21-year-old in a prison cell messing around with dandelion roots to 33-year-old Nicole Rose graduating as a herbal practitioner! This was the goal of a lifetime for me.
2. Herbalists without Borders Calais – Herbal solidarity for survival against the border regime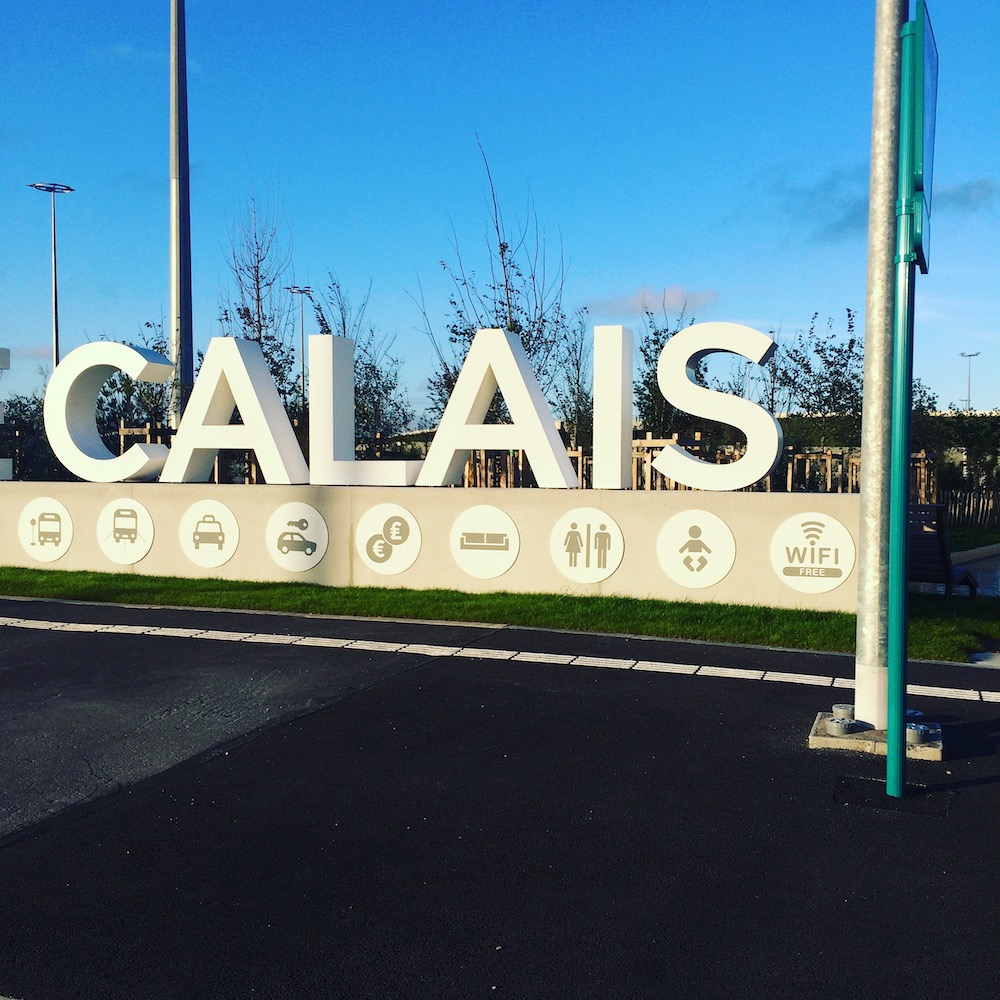 In 2021, I made four trips to Calais with the Herbalists without Borders team in January, April, November and December. I was gutted to miss trips due to training, catching covid and other reasons.
Like most things, the project has had 'pandemic fatigue', with people burning out or unable to come out due to caring responsibilities, an inability to quarantine etc. The sheer challenge of finding enough people able to cross the border and volunteer with the project has affected us throughout the year. We tried (often failing) to invest energy into training and developing the systems and structures of the project to support more people to get involved. Despite being vaccinated, the changing rules require constant adaptation. The workload is immense and we are feeling the weight of it.
In November, the timing belt went on my van meaning it had to get towed back to England to be fixed. Then in December, my van windscreen was smashed by fascists costing over £1300 to repair. Thank you so much to everyone who donated to the crowdfunder!!!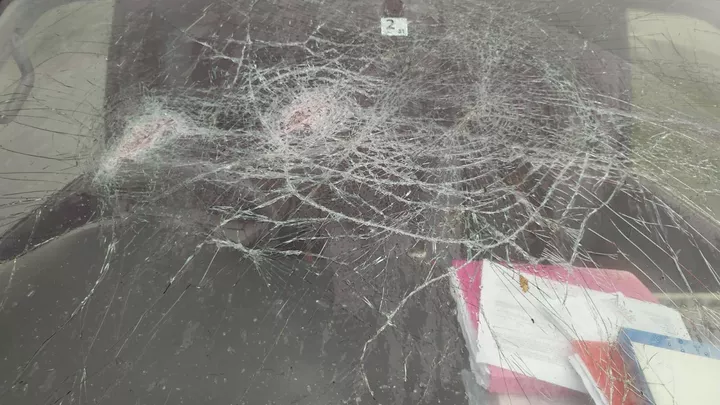 The challenges and bureaucratic 'faff' are nothing compared to the lived realities of refugees in the region. The border regime continues to kill – in November 2021, 27 people (including children) drowned in the channel after a boat capsized. Calais Migrant Solidarity has reported that information that has emerged since showing that it was the decision on the part of authorities not to intervene, nor cooperate, after being alerted to the boat in distress that lead directly to their deaths.
During our trip in November, a man washed up dead on the beach (their identity has still not been confirmed), four people were hit by a train leaving three in hospital and one dead. Another man was declared dead after being taken unconscious from the sea, while his friend is lost at sea. I could go on and on. Calais Migrant Solidarity share a harrowing list of lives lost due to the border regime.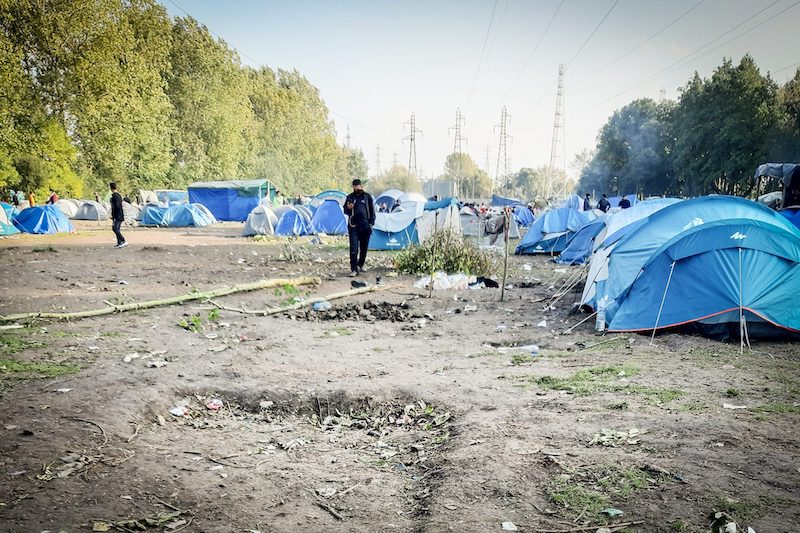 People living in the camps face constant evictions, police violence and terrible living conditions. CS gas and rubber bullets are commonly used and we regularly see injuries from attempts to cross the border. The worst moment this year for me was a man in our van with hypothermia and a suspected broken foot who was taken to hospital in an ambulance. He asked the member of our team who had their arms around him trying to keep him warm "Please stay with me" as he cried and shook. Another man told us that in the four countries he had been through, he'd never known such kindness as we took him to hospital to try to get him seen. We see hundreds of people every trip. Somehow they make a dent in your subconscious and you leave wondering if you will ever see them again; if they will make it across, if they will drown. Yet people bravely resist and keep going. They take care of each other, they translate for us in the clinic, sometimes for hours, because they call everyone their brother. To learn more about Herbalists without Borders Calais visit: hwbcalais.org
3. Prisoner Solidarity with the Prisoner Herbalism Collective
It's been a big year for the Prisoner Herbalism Collective (PHC). In August 2021, the prisoner newspaper Inside Time finally published an article about the Prisoner's Herbal book. This paper goes to more than 60,000 people in prison across the UK. It generated hundreds and hundreds of requests for the book, which we are still processing now. In addition to individual prisoners asking for the book, lots of chaplains and other projects got in touch to order books by the box load! We also continue to receive hundreds of requests to our PO Box in New York.
Many people who have read the book and the colouring book have gone on to request to start the distance learning course in herbalism for prisoners, which is incredible. The project also got a huge boost from being featured on the Eatweeds Podcast in February where we talked about plants in prison, PTSD and more.
Two extremely hardworking comrades have translated the Prisoner's Herbal book into Spanish, with regionally adapted versions ready for distribution in Spain and Mexico (watch this space in early 2022!). The Greek edition is nearly ready and there are other versions in the pipeline!
I am so grateful to everyone who has sponsored a box of Prisoner Herbals or bought a copy of the book. Or those who simply shared the book with their local prison books project. If you would like free copies please use the request form here: https://solidarityapothecary.org/prisonersherbalrequest/
4. Herbal Solidarity against state violence
This year I launched my 'herbal solidarity request form' to make it easier for people to request herbal support. Requests steadily came in through the year, many of which were anonymous but here are some I can mention…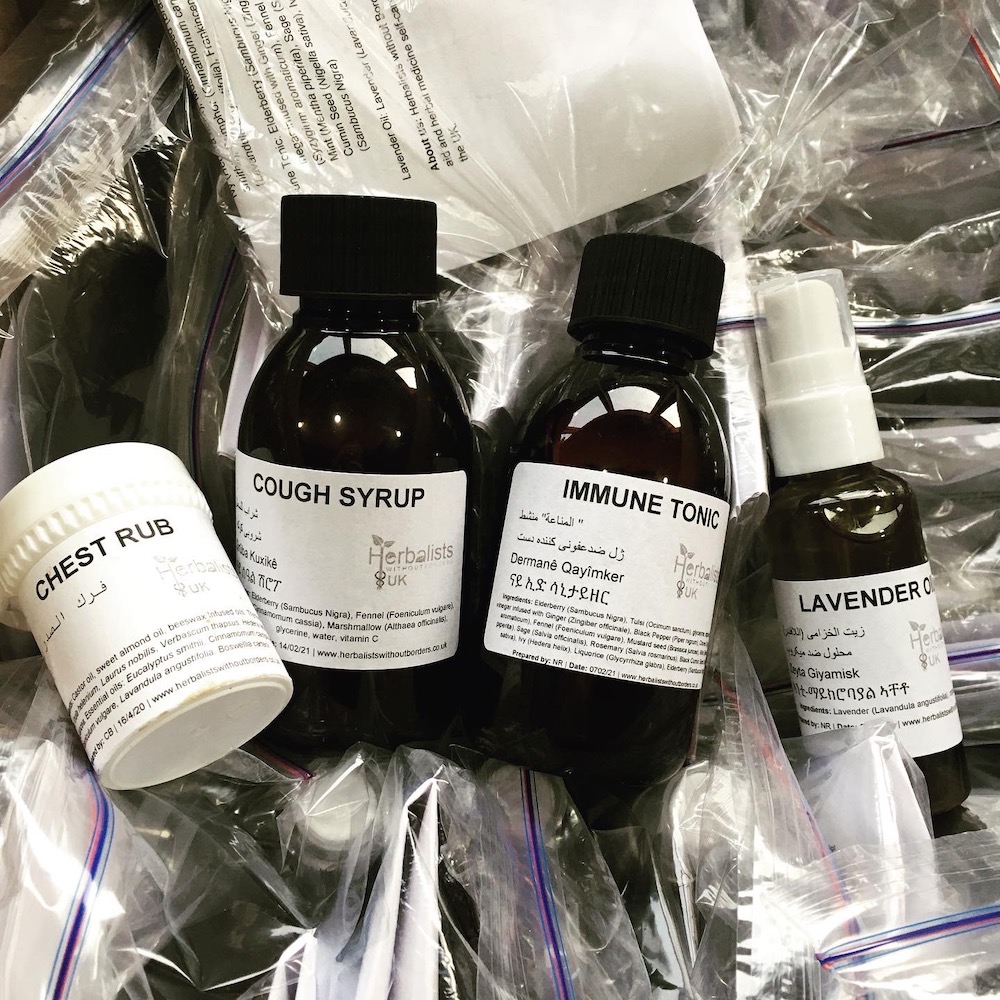 In January, an organised group of asylum seekers called CROP (Camp Residents of Penally) requested herbal support for fear of covid in their barracks. They had been housed in disused army barracks in Wales yet after a successful campaign managed to get moved to more humane accommodation. We made them 120 packs of cough syrup, immune tonic, lavender oil and chest rub. Find an interview with CROP here. There is also an ongoing campaign against Napier Barracks which remain open – https://www.closethecamps.uk/.
In February, I sent 160 bottles of lavender oil to Zagros, a Kurdish community organisation supporting refugees in hotels and dispersed housing around Glasgow.
People on trial and experiencing repression also received care packages, including some of the Kill The Bill defendants in Bristol, several other trial defendants, and two people under house arrest in Turkey. Packs also went out to prisoner family members and several refugees with who we have an ongoing relationship with via Herbalists without Borders.
Groups that received larger packages for their organisers included Abolition Detention Hassockfield, SOAS Detainee Support, the House of Shango and various radical squat crews locked down due to covid! Abolish Detention Hassockfield is a grassroots campaign group formed of migrants and British citizens coming together to oppose plans to open a women's detention centre in County Durham. SOAS Detainee Support support detained individuals while also working to end detention in all its forms.
Internationally, I managed to get a box of Overcoming Burnout books out to organisers engaging in solidarity work on the US-Mexico border.
5. One-to-one Herbal Support
A larger focus this year has been supporting people one-to-one in a deeper, longer-term way. 18 people requested support, 14 of which have been affected by state violence, including 5 ex-prisoners. Each person had a consultation, individual prescription and herbs for as long as they needed (for free).
I'm not going to lie – this is an area of work I need to focus on and improve on. While my initial consultation is generally well-received, the overwhelm in my life meant that I didn't always manage to organise follow-ups as frequently as I'd have liked. I feel like I let people down due to the competing priorities and the struggle of managing my paid job, the apothecary and its various projects, as well as a lot of prisoner support work and other political organising. I need to reflect on this deeper and develop better systems for the coming year so that I can support people more consistently, manage expectations and not take on more than I can chew!
I feel reflective about the ways I can offer care without falling into the often hierarchical dynamics of practitioner-patient. Likewise, I feel left wondering about how to support people to actually achieve the lifestyle changes they need in a capitalist society with so much pressure from all sides. This is why I return to ideas of collective care talked about in my Overcoming Burnout book, yet how to put them into practice is an ongoing experiment! Like other than giving recommendations, what solidarity do people have to actually implement changes like having more rest-and-digest time to process their food? Or get better sleep? I'm increasingly feeling the call to create the Herbalism for Organisers course in order to support people to really create shifts in their lives over the long haul beyond a box of plant medicines.
6. Tours and Events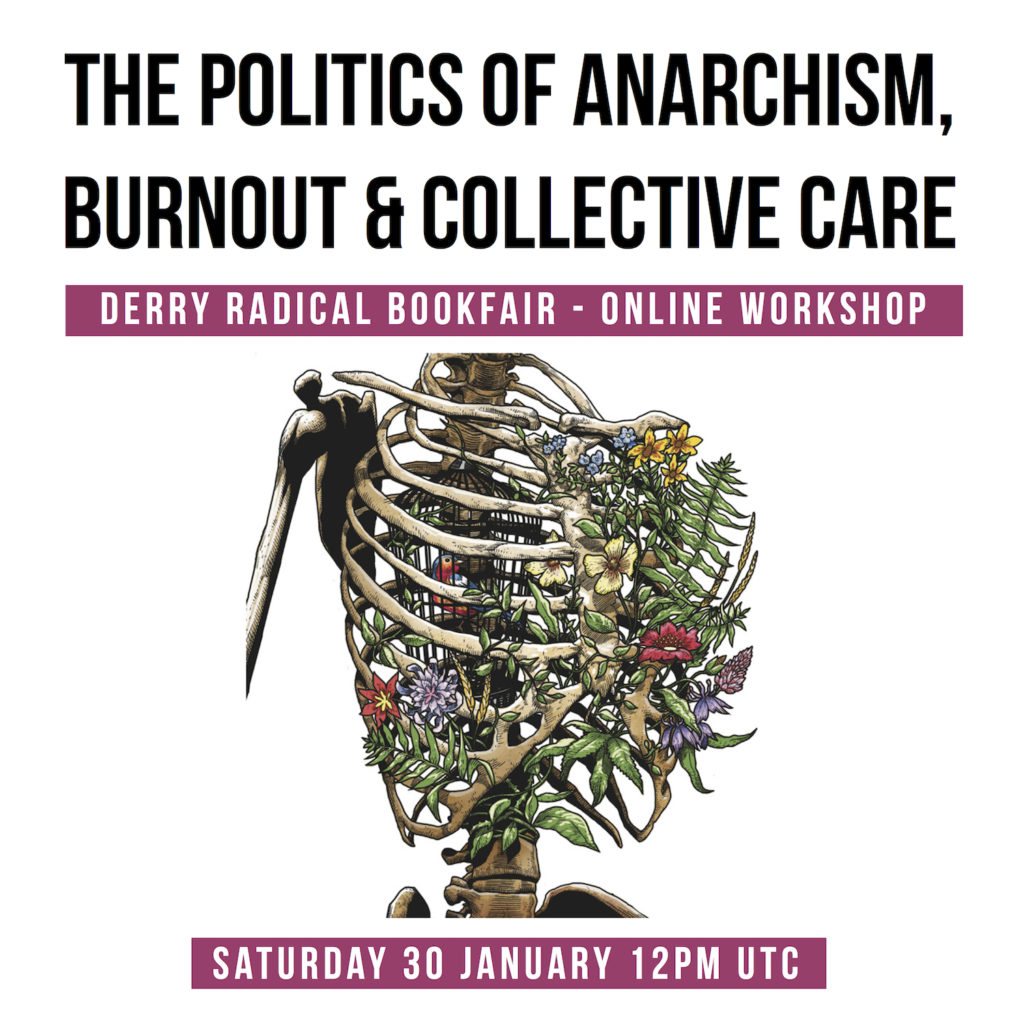 While life was still mostly grounded at home due to the pandemic, it was a real delight to be able to get in some face-to-face events in-between covid peaks. One of the highlights of my year was getting to Glasgow!!! I did a small tour on invitation from the School of Abolition, an action-research project about Scotland's prison industrial complex. The tour involved a workshop with Sisco, an awesome recovery organisation that works with ex-prisoners, where we looked at the role of plants in supporting the nervous system, recovering from PTSD etc. We tasted a lot of samples and had a really good laugh, I loved it! There was also a plant walk and public meeting about resisting HMP Glasgow, a proposed mega-prison in the city. See the post about the tour here.
In January, I was stoked to be invited to talk online at Derry Radical Bookfair about the politics of anarchism, burnout & collective care.

This year I also joined the newly formed Bristol Action Medics, to offer medical support at demos/protests/mobilisations. Get in touch if you ever need a crew for your demo!
7. Fundraising and fundraising and fundraising and fundraising
As the work has grown, the costs have grown. For an anti-capitalist, I spend a serious amount of time selling shit and it's definitely wearing me out! Gone are the days of benefit gigs and events due to the pandemic, so posting on Instagram and begging for people to buy things seems to have become a much bigger part of my work than I ever imagined or desired! But as ever, people's support blows me away and I can't say how much every book sale helps.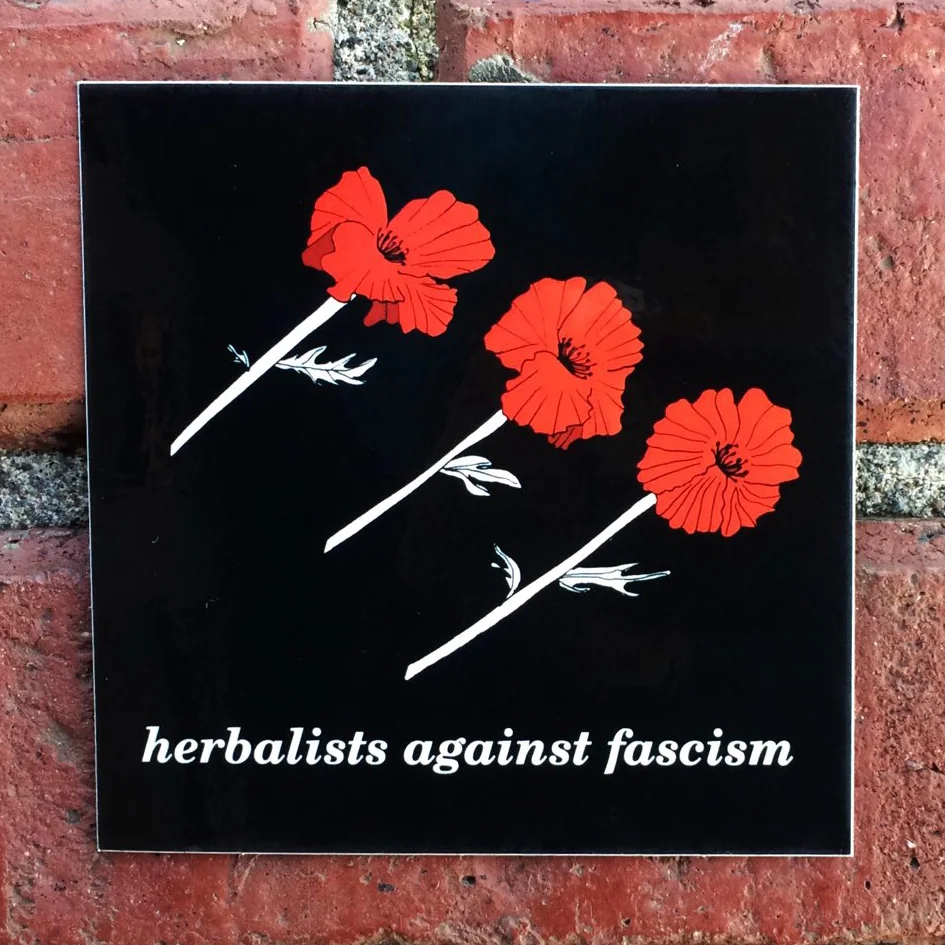 Lots of other amazing people stepped up and some super cute fundraisers took place this year! I'd like to express huge gratitude to Kes Otter Lieffe and Anja Van Geert that have donated £1 from each copy of their incredible Queer Animals Colouring Zine to the Solidarity Apothecary.
Distro Hex also sold beautiful dandelion cards. A member of the PHC also created these amazing herbalism against fascism stickers: https://eberhardtpress.bigcartel.com/product/herbalists-against-fascism
In December 2021, I also launched a bandana fundraiser! Honestly, I cannot say thank you enough to everyone who has donated this year, especially folks who are regular monthly supporters. And massive gratitude to Active Distribution who regularly front costs for book printing while I slowly pay them back! All of the Prisoner herbal work rests on their support.
8. Grief and Gratitude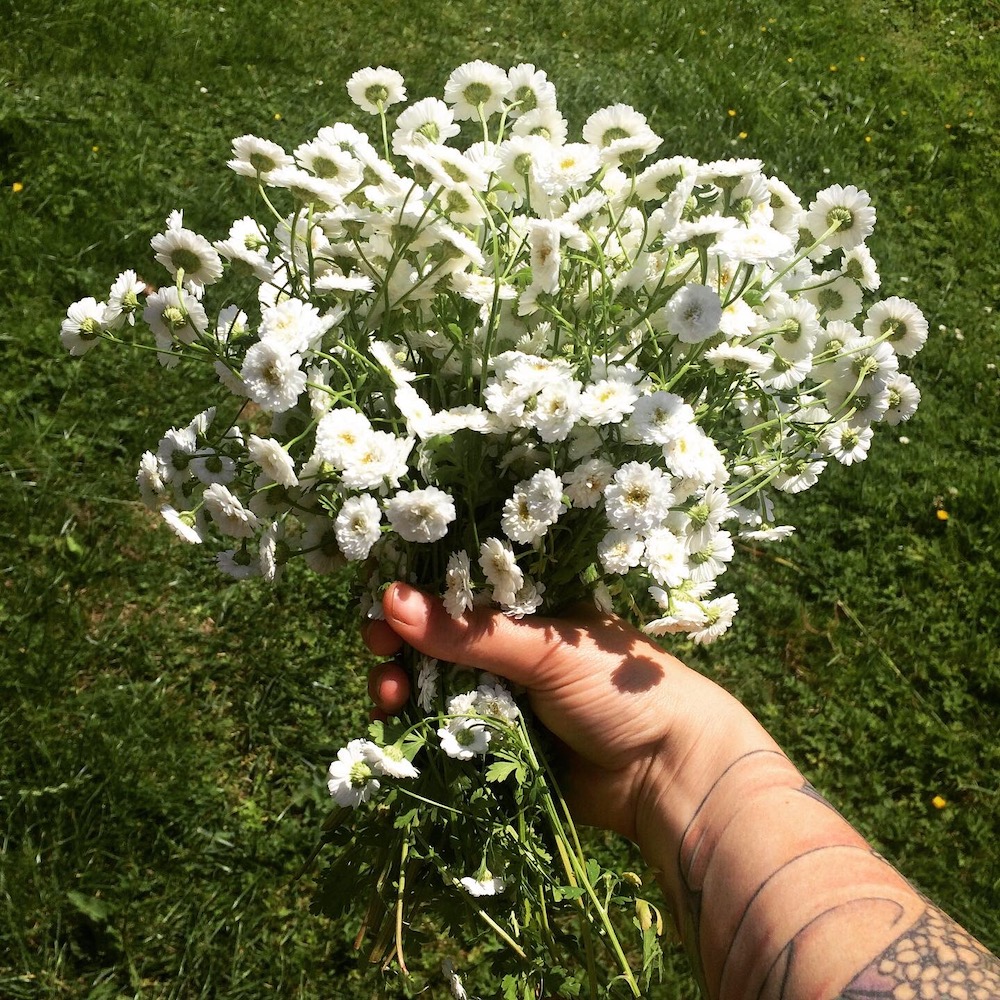 The world is on fire. The pandemic still rages and people are still dying because of racial capitalism's priority of profit over life. The state still locks up humans in cages, brutalises people with its police forces and terrorises people on its borders. Animals are still commodified and tortured in labs and farms. Land is destroyed by developments and climate change is here and now disrupting life as we know it.
Life can feel heavy as hell. Yet there are movements working for liberation on every corner of the planet. People resist, organise and take care of each other. The tattoo sleeve on my arm says "never alone" because I really believe we are in the majority – all of wild life is on our side, desiring freedom too.
And plant medicines can take care of us while we do this work. They can support our immune systems while we keep organising through the pandemic. They can soothe our hearts when they are full of grief. They can aid our sleep when nightmares return. They can remind the person in solitary confinement that they are not alone because there is a dandelion right there in the concrete full of medicine. So let's keep fighting for life and liberation.
If you support the above work and want it to keep going in 2022, please consider becoming a regular monthly supporter – https://solidarityapothecary.org/support/