Please note these plant profiles are a work in progress. I will always be adding to them as I keep learning about the amazing world of plant medicine.
Botanical Overview
Latin name: Lavendula species
Plant family: Lamiaceae (mint family)
Identification: Lavender is a short, bushy shrub that has rough woody branches and grows 2-3ft tall. The leaves of lavender can be broad or narrow depending on the variety; most are lance-shaped and grey-ish blue and grow directly off the stem. Lavender flowers are very fragrant and grow on slender stalks that reach up above the leaves. Flowers consist of whorls of bright purple flowers that are small and spiky at the top of the stalk (1).
Other species: L. angustifolia, L. vera, L. officinalis, L. stoechas
Folk names in English: Spike, Elf leaf, Nard, Nardus, Garden Lavender, Spike Lavender, Sweet Lavender, True Lavender. Lavender is generally thought to come from the latin 'lavare' which means to wash.
Chemical constituents: Flavonoids; Tannins; Coumarins; Essential oil (up to 3%)-Aldehydes: 2% (including myrtenal, cuminal, citral, geranial, trans-hexanal) Esters: 40- 50% ( linalyl acetate, lavandulyl acetate, terpenyl acetate, geranyl acetate). Ketones: 4% (camphor, octanone, p-methyl-acetophenone) Oxides: 2% (1,8-cineole, linalol oxide, caryophyllene oxide). Monoterpenols: linalol, terpin-4 -ol, a -terpineol, borneol, geraniol, lavandulol Coumarins/ Lactones: herianin, coumarin, ombelliferone, santonin (2).
Food and nutrition
Lavender can be a tasty addition to food and drinks. Herbalist Kami McBride makes a relaxing lavender cordial with fresh lavender, nutmeg and brandy. She also makes 'Oatstraw Breeze Tea' that combines oat straw and lavender tea with rosewater. Lavender is also added as a seasoning in similar ways to other aromatic herbs such as rosemary and thyme (3). Lavender flowers can be added as a garnish, used in desserts, baking and more.
Ecological role
Lavender is a wonderful plant for bees and other insects. Its native habitat is dry grassy slopes amongst rocks, in exposed, usually parched, hot rocky situations often on calcareous soils (4). Lavender also makes a good companion plant in the vegetable garden, especially with the brassica family.
Cultivation: Lavender likes full sun and well-drained, sandy soil. Lavender can be propagated from seed and softwood cuttings. It takes two growing seasons to get good blossoms. Plants will produce for about 5-6 years before yields begin to drop off. Growers Jeff and Melanie Carpenter recommend planting 16 inches within the row and 28 inches between the rows (1).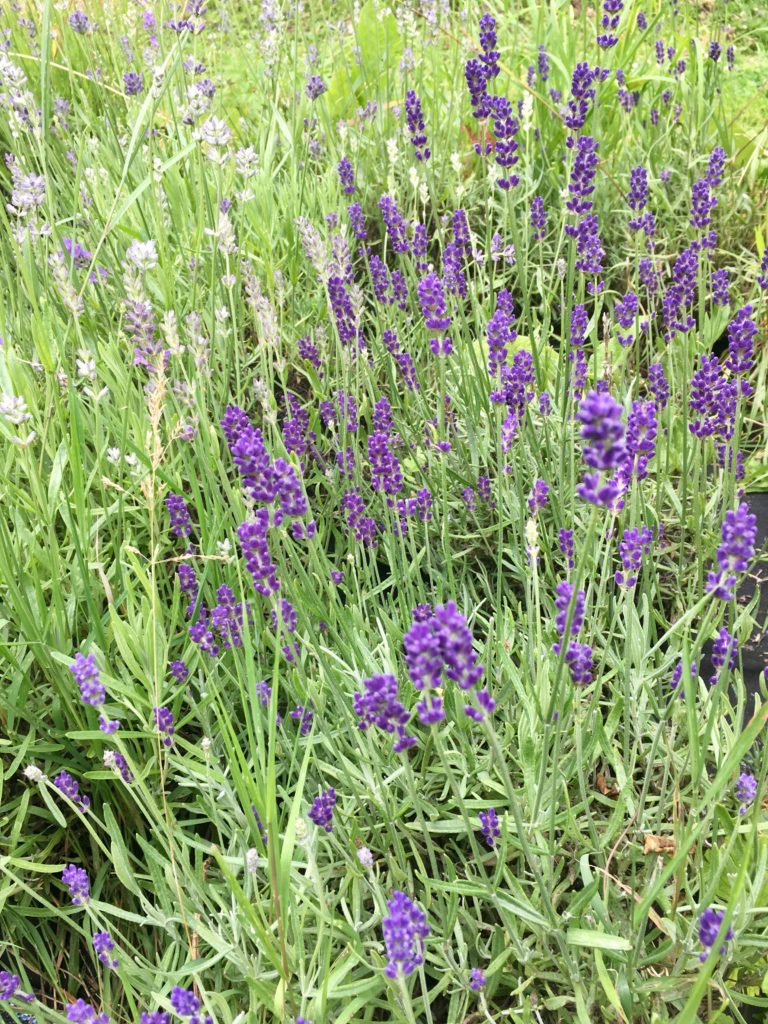 Energetics
Temperature: Cooling
Moisture: Drying
Tissue State: Heat/excitation, Wind/tension
Taste: Bitter, pungent, sweet
Health challenges supported by Lavender
Herbal actions: Anti-bacterial: Analgesic; Antiseptic; Carminative; Circulatory stimulant; Cholagogue; Nervine; Spasmolytic; Antidepressant; Anti-rheumatic; Relaxant; Rubefacient; Sedative (2).
Nervous system support: Lavender is a superb support to the nervous system in several ways. Herbalist Alexis J. Cunningfolk writes that Lavender works with the nervous system very intelligently – it stimulates a sluggish nervous system when needed, bringing clarity and focus while lifting lethargy and can also calm an aggravated nervous system that needs to be soothed, recentered, and settled. Lavender works well to soothe the nervous system when experiencing agitation, nervousness, and insomnia and especially when overheated conditions such as anger and irritability are present (6).
Sleeplessness: Its affinity with the nervous system makes lavender a great remedy for sleeplessness, especially if caused by emotional stress. Dried lavender flowers are often mixed with rice or other dried grains and made into a 'lavender bag' that can be put under the pillow or used as a neck pillow when sleeping. Lavender tea can also be drunk before bedtime to aid with sleep.
Headaches and Migraines: Lavender can support people experiencing headaches and migraines, especially those caused by stress and tension. The infused oil can be rubbed on the temples or massaged around the base of the neck.
Digestive challenges: Anne McIntyre writes that lavender is an effective antispasmodic, releasing spasm and colic, and can be used for wind and bowel problems related to tension and anxiety. Its antiseptic volatile oils are active against bacteria, yeasts and fungi, useful for stomach and bowls infections causing vomiting and diarrhoea. It can also be a good remedy for travel sickness (5).
Muscle aches, sprains and bruises: Cat Ellis uses lavender flower powder in a poultice for sprains and bruises combined with comfrey leaves, arnica flowers, goldenrod flowers and self-heal (7). Lavender essential oil is also regularly added to bruise ointments. Infused lavender oil is  incredible support for aching muscles.
Dental support: Lavender can be used as part of a mouth rise for post-extraction dental treatments, scalings, fillings and other adjustments (8). Lavender also combines well with chamomile for teething infants, especially where sleeplessness is an issue.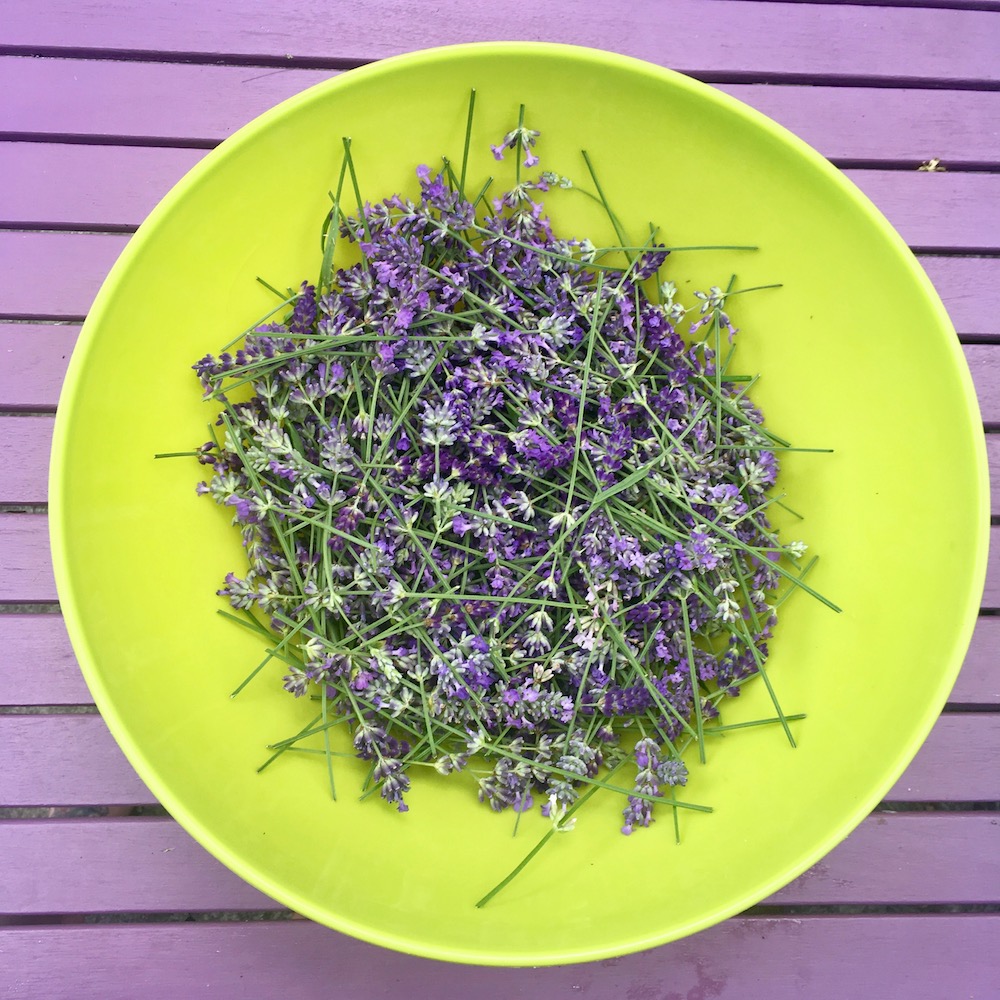 Skin complaints: Lavender is used for inflammatory and infective skin complaints such as eczema, acne, varicose ulcers and nappy rash. Herbalist Kami McBride adds lavender to an acne wash made from an infused vinegar of rose petals, chamomile, lemon balm, rosemary and lavender (3). Lavender is also added to cosmetics worldwide. It is also commonly used in various burn and sunburn treatment protocols
One of the best ways to work with lavender is through herbal baths. These can aid the skin as well as the nervous system. Dried herbs can be wrapped in muslin and added to a bath, lavender oil can be added or a few drops of essential oil. These are even more therapeutic with Epsom salts added to the bath too.
Respiratory complaints and asthma: Lavender is often under-utilised as a respiratory herb. Its antimicrobial, decongestant and expectorant actions make it useful for respiratory tract infections, chest infections, tonsillitis, laryngitis, coughs and colds (5). It is particularly useful in herbal steams. Its antispasmodic actions have made it helpful for asthma and croup.
Childbirth support and recovery: Anne McIntyre writes that traditionally lavender was burned in delivery rooms as a disinfectant and used in baths to speed healing and reduce pain after childbirth (5).
Insect repellent: Lavender essential oil can be used to repel insects and can relieve insect bites and stings.
Cautions
Some people may display sensitivity to lavender essential oil on the skin. This can often be attributed to low-quality, adulterated oils. Herbalist and aromatherapist Nikki Darrel says that the essential oil is generally considered as an emmenagogue, and therefore some authors say it should be avoided in the first trimester of pregnancy. As a hypotensive the oil may cause extreme drowsiness in individuals with low blood pressure (9). Caution should be taken using lavender with prescribed sedative or tranquillising medicines because of its sedative effect (10).
Lavender and the Solidarity Apothecary
Lavender is a staple of my apothecary. I make an amazing infused oil that is distributed to people experiencing repression. We use also use it in Calais with Herbalists without Borders to support people with headaches and as an ingredient of skin creams. Lavender essential oil is also common in our first aid kit.
Sources
1. The Organic Medicinal Herb Farmer, Jeff and Melanie Carpenter
2. Lavender monograph, The Plant Medicine School
3. Herbal Kitchen: 50 Easy-to-Find Herbs and Over 250 Recipes to Bring Lasting Health to You and Your Family, Kami Mcbride
4. https://www.balkep.org/lavandula-angustifolia.html
5. The Complete Herbal Tutor, Anne McIntyre
6. Lavender Monograph, The Lunar Apothecary Course, Alexis J. Cunningfolk
7. Prepper's Natural Medicine: Life-Saving Herbs, Essential Oils and Natural Remedies for When There is No Doctor, Cat Ellis
8. Dental Herbalism, Leslie M. Alexander
9. Essential Oils, A concise manual, Nikki Darrell
10. Herbal Contraindications and Drug Interactions: Plus Herbal Adjuncts with Medicines, Francis J. Brinker